10 Tips for Hiding Your Modem
7 minutes read
|
January 24, 2020
When we decorate our homes, we tend to get caught up in the fun things like choosing colour schemes, picking out the perfect furniture, or finding the best deals on area rugs. But there's more to creating a great living space than cute accent pieces and stylish wall décor. It's as much about what you don't see as it is what you do see. One particular byproduct of modern life that is often overlooked during the planning process of home décor is figuring out what to do with that rat's nest of a router or modem.
Modems, routers, and TV cables might be the last thing you want to think about when you're shopping for totally adorable teak side tables, but these items can be a major eye sore if you forget to consider them during your planning stage. We understand that trying to hide modems can be a hassle, so we've got you covered with these 10 tips.
Tip #1 – Hard Book Cover

Buy a hollowed out book at either a craft or home décor store to cover your modem or router. Your incognito hardware will look at home on any shelf or on the TV Stand. Personalize this hack by finding an old hardcover of your favourite book and then cut out the pages. This is a great way to hide that modem or router and add a personal touch at the same time.
Tip #2 – Decorative boxes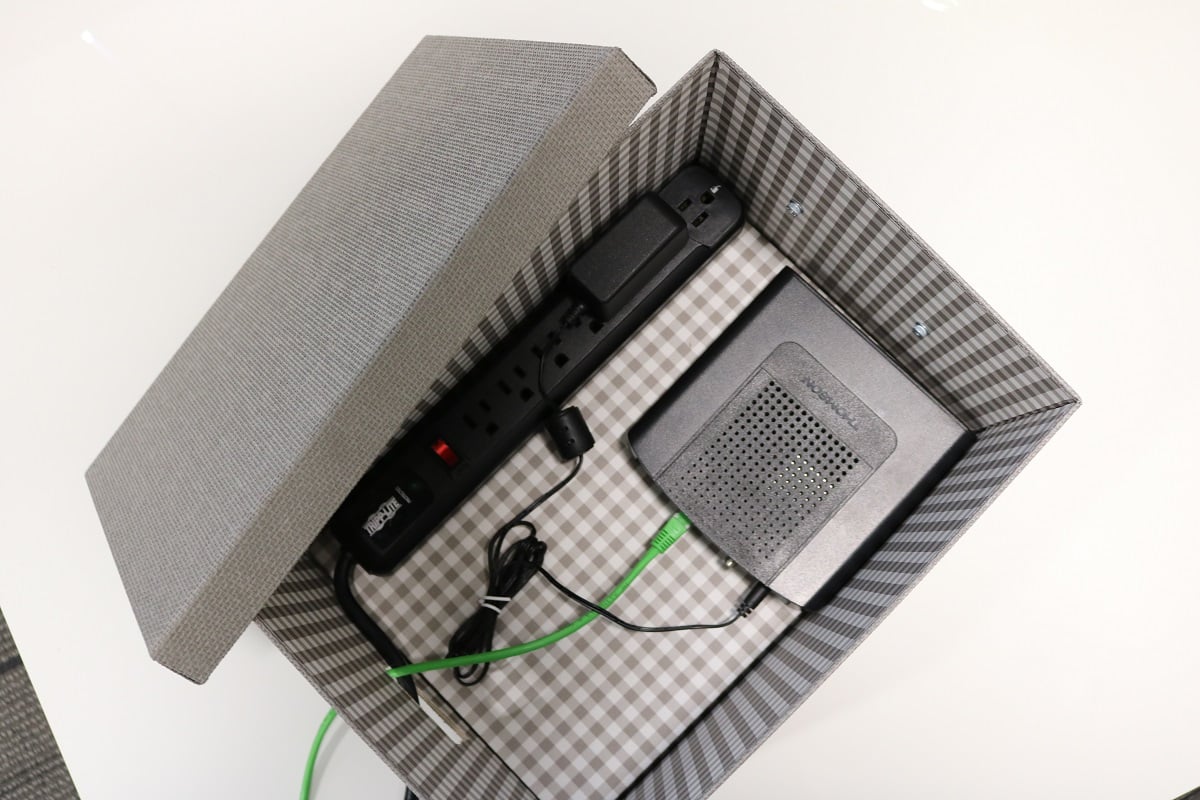 Boxes can hide anything! You can use a decorative box to hide your modem and all those ugly cables that no one wants to see. Most decorative boxes have handles on the side, which you can use to thread cables through to keep that modem connected but out of sight.
To do this, place a power bar on the inside of your selected decorative box. One at a time, run each required cable through the hole on the side of the box and plug it into the power bar. Once you have plugged everything in, place the lid back on and presto! Hidden hardware!
Tip #3 – Inside your end table

Want to keep things simple? Most TV stands have little drawers that can be used for storage. If your TV stand has these, your drawers are probably full of old TV remotes, wires, and things you haven't used in a decade. So why not take a moment to clean one out and re-purpose it as a crafty little hiding spot for your modem. There's really not much to it. Place your modem inside the TV stand drawer of your choice, and run the cables out the pre-cut hole at the back. Once everything in plugged in and in place, shut the drawer and go kick back and relax. It's truly that easy.
Tip #4 – Books on a Shelf

If you take a look at any modern styled home today, you will see shelves styled with old hard covered books. The truth is, whether you read or not, books are perfect for making your home look more intellectual and chic. Why not get the best of both worlds – style and convenience. First, find a wood crate and spray paint it to match the colours of your home. Then find a couple hardcover books and cut ¾ of the book off, leaving the spines intact. Use a hot glue gun or super glue to attach the books in whatever order onto the wood crate. Once they are dry, your new hiding spot is ready to be used. Drop your modem inside the crate and place your creation on the shelf of your choosing.
Tip #5 – Cables in baskets
We've all seen beautiful wicker baskets under benches or floating TV stands, filled with extra pillows or throw blankets. However, they can also be used to hide cables and power bars. Find a basket that matches the colours in your home and make sure it's the correct size for the location you want to put it. All that's left to do is place the power bar inside the basket and start plugging in your electronics. Voila, those ugly cables are gone.
Tip #6 – Behind TV Stand organization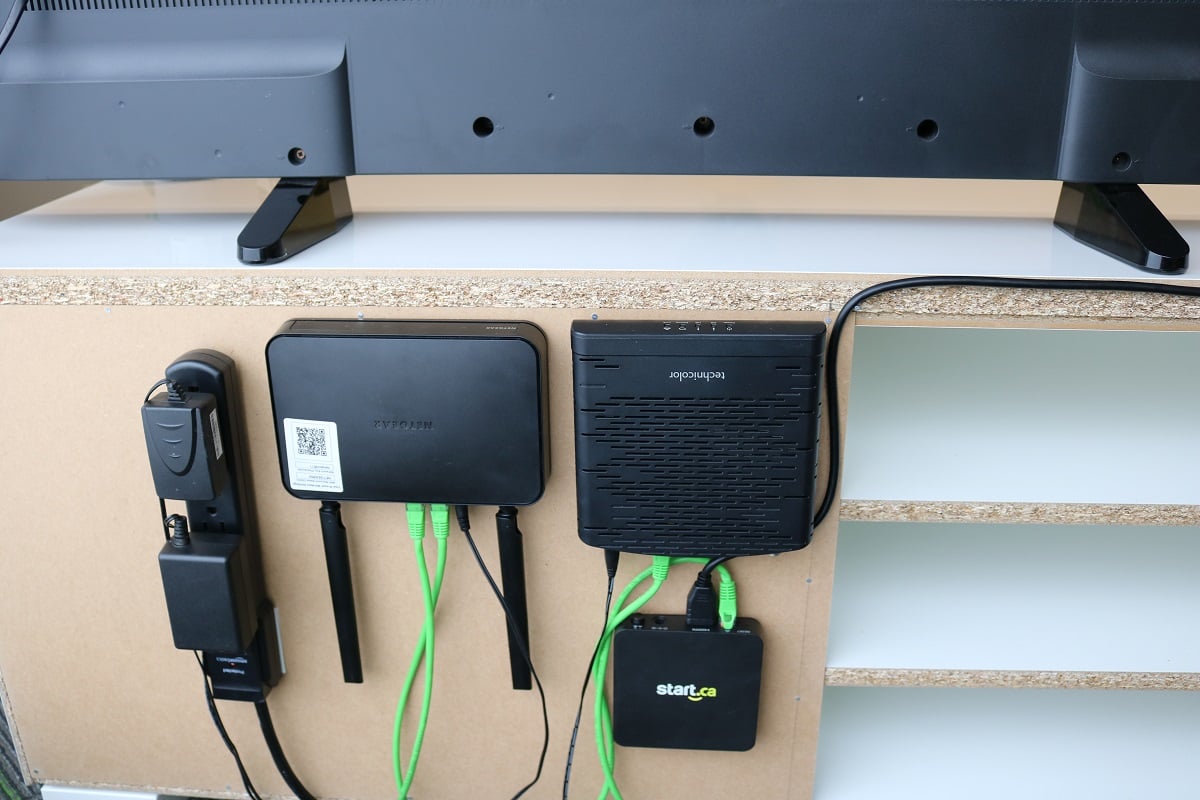 This solution for me is the most satisfying! If you were to look behind 100 TV stands in random homes, the first thing you would notice is a tangled mess of cables. By using double-sided Velcro you can secure anything to the back of your TV stand. You can use this tip to attach your power bar, modem, router, and any other electrics to it, makes for a clean and organized space. Not to mention everything is hidden from view. This is truly a win-win.
Tip #7 – Shadow box pictures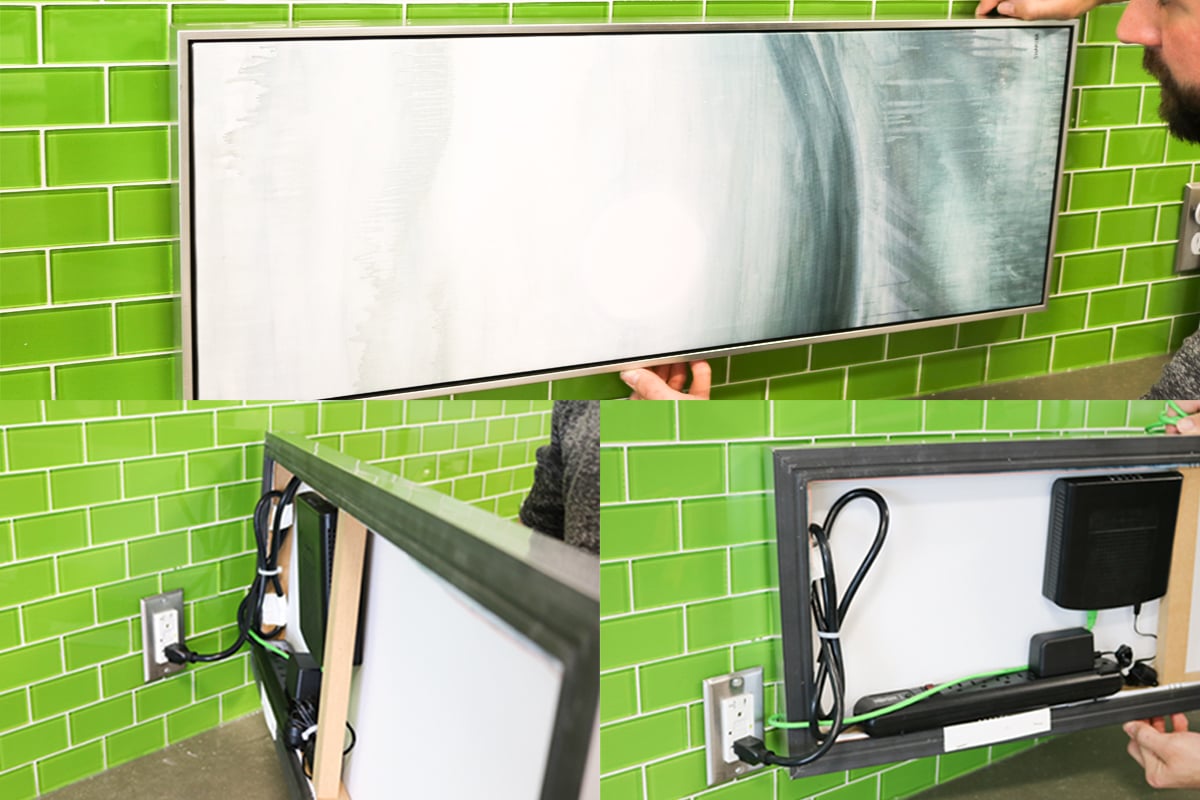 We all have at least one canvas picture hanging in our house. Turn that fun canvas picture into a hidden cable/modem cave. First, find a location where the picture can hang over an outlet and measure out how big your space is under the canvas. You'll need to know this for planning how your modem and cables will fit under the picture. Make sure your canvas picture has a thick frame and hangs off the wall, to ensure it can sit flush against the wall, even with the modem and cables behind it. Once everything is mapped out and you double-check everything will fit, you're ready to start hanging your cables and modem. Last step, is to put up your canvas picture and enjoy the view.
Tip #8 – File Folder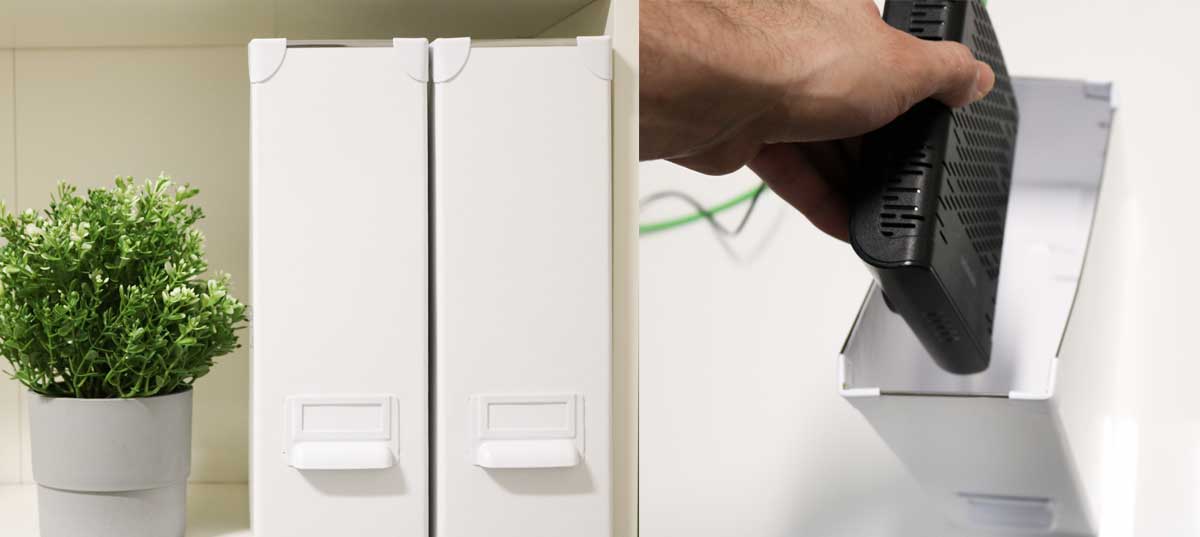 File folders can really hold just about anything. You can use them in the freezer to organize your frozen veggies, water bottles in the cabinet, plastic wrap and zip lock bags, flats or flip flops in your closet, or better yet, your modem or router. Place a file folder on your computer desk or in the location of your choice and place your modem inside. It's truly that simple! To make things even more organized, why not add a label to the front of the file folder that reads "Internet." Cheeky, right?
Tip #9 – Night Stand Charging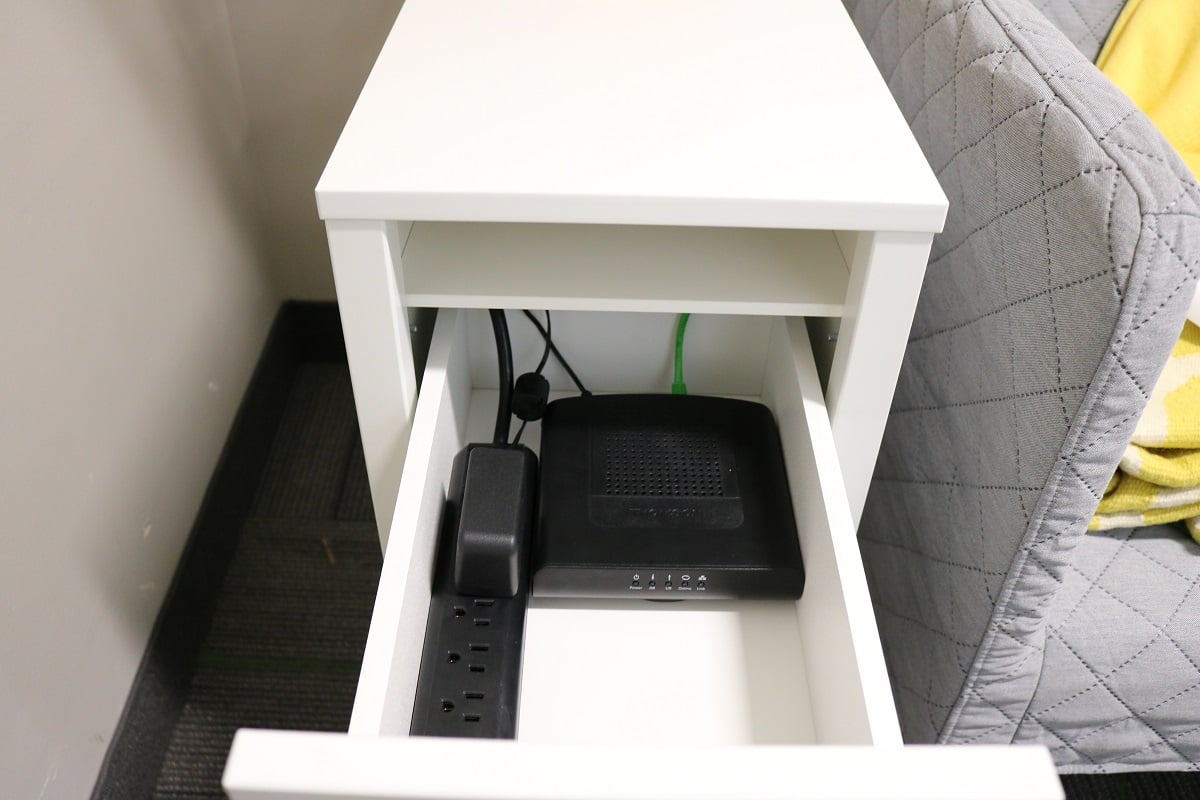 If you're looking to hide all cables in your bedroom including the lamp cord and your phone charger, then placing your power bar inside your nightstand might be the trick for you. To make sure the power bar does not move when opening and closing the drawer, you can easily fasten it in place. This hint is also helpful for a great night's sleep, plug in your phone and close the drawer to limit distractions.
Tip #10 – Cord Management Strips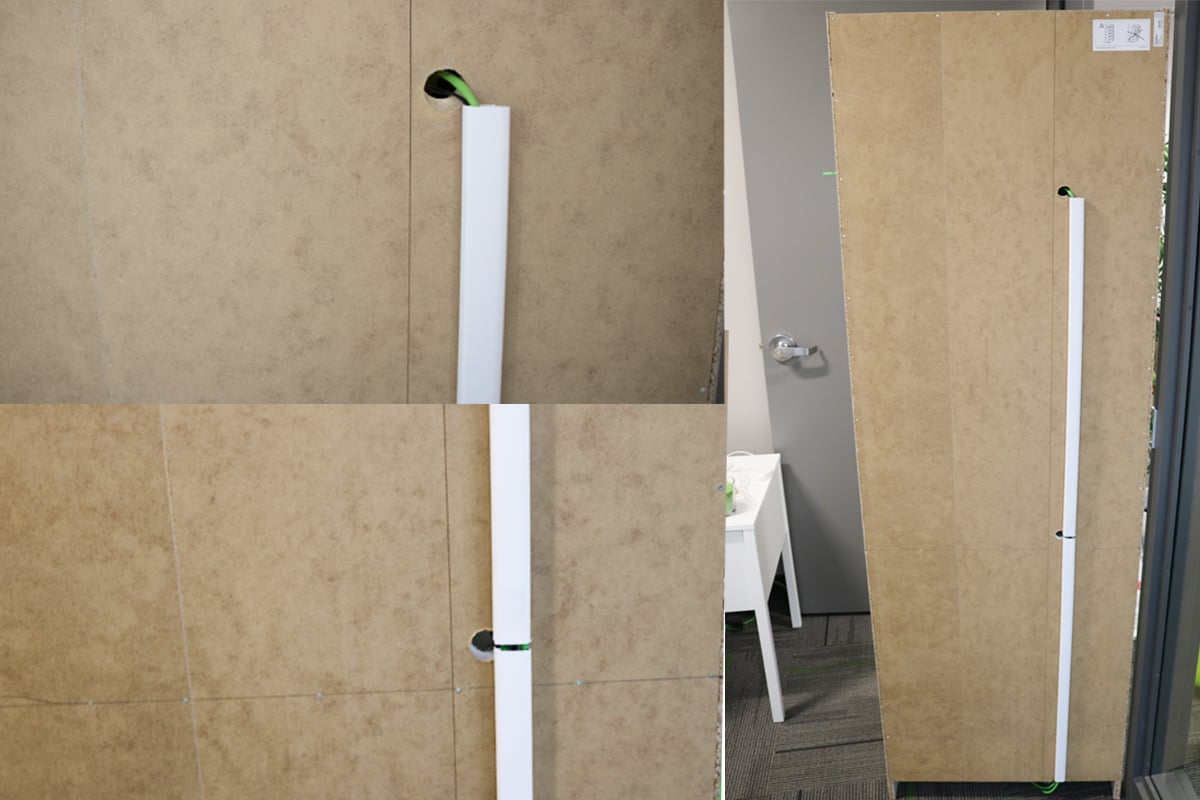 Last but definitely not least, there are magnetic strips that can easily be placed on the back of your desk to organize your computer cables to keep things neat and tidy. This is perfect for computer desks that are not pushed up against a wall and have the back of the desk exposed. Making sure those cables are hidden is key for making your space look organized and aesthetically pleasing.
Decorating your home should be a fun and exciting adventure. Making your space feel more personal to you while hiding those ugly cables and unsightly modems and routers might seem like a challenge, but all you have to do is get creative! We hope these 10 tips help you come up with more imaginative ways to hide your wires so you can live a more organized, clean life!
Did we miss anything/or have you got any tips to share? Connect with us on social media and tell us! Facebook https://www.facebook.com/start.ca/ or Twitter https://twitter.com/startca .
Start.ca out. 😉
*For best results, make sure you are leaving enough room for your modem and other supplies to breathe and allow air to flow. In some cases obstructions around your modem or router can cause your devices to overheat and possibly make the signal weaker or spotty throughout your home.