Six useful browser shortcuts
2 minutes read
|
December 1, 2015
Keyboard shortcuts are great. They help you be more productive and get things done faster. Beyond universal commands like copy and paste, browsers like Google Chrome & Firefox have some unique shortcuts that'll save you a whole bunch of time and effort. Here are six useful browser shortcuts we think you're going to love:
1. Recovering a closed tab:
Ever close a tab by accident? Undo with Control+Shift+T on Windows or Command+Shift+T on a Mac.

2. Reveal the search box:
Control+F or Command+F will bring up a search box and allow you to find certain words within your browser.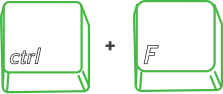 3. Print a webpage in a jiffy:
Press Control+P or Command+P.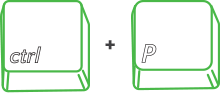 4. Keep your session private:
Enable private or incognito mode and the browser will stop tracking your history, cookies and passwords. For Firefox users, press Control+Shift+P or Command+Shift+P, for Chrome press Control+Shift+N or Command+Shift+N.
Firefox:
Chrome:

5. Increase and decrease text size:
Hold down the Control or Command key and press the + or – to increase or decrease the size of text. Control or Command + 0 will reset the text.

6. Reset a slow loading page:
Page not loading? Try Control+R or Command+R to refresh your webpage.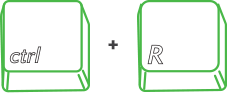 Follow us on our social channels for great tech and internet related tips!