Our team inspires us – meet the winners of the Inspire Awards 2020
11 minutes read
|
March 10, 2021
When you love what you do and you love who you work with, every day can be inspiring. And if you've ever felt truly inspired by the people around you, you know it isn't something you take for granted. We are incredibly grateful for the team that we get to work with each day. They are the friendly faces behind our friendly brand, who reflect our values as a company – friendly, honest, reliable, smart, forward and involved.
Recognizing the hard work and talent of our employees is an important part of our work culture, which is why each year we hold our Inspire Awards to celebrate the success and achievements of our team members. Our Inspire Awards went virtual for the first time this past year and even though we couldn't host our usual company-wide, in-person event, nothing was going to stop us from giving these folks the acknowledgement they deserve!
Who are the well-deserving recipients of our 2020 Inspire Awards? We're proud to introduce you to them and tell you a bit more about what makes them so great!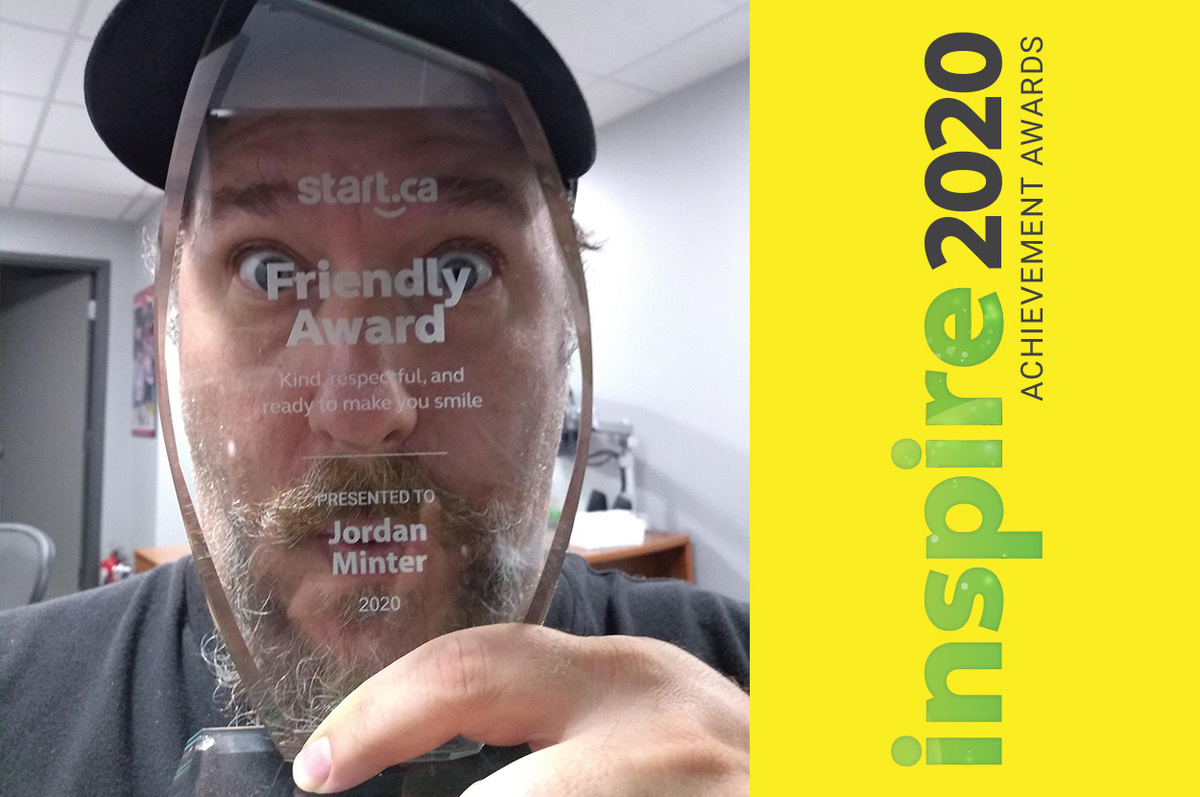 Friendly Award – Jordan Minter, Facilities Technician
Kind, respectful and ready to make you smile. An employee whose positive attitude is infectious internally and externally. They demonstrate a relentless commitment to customer service and teamwork. They serve as a role model in their department by promoting a work and service environment that inspires respect and collaboration.
What is the best career advice you've ever heard?
If you're 5 minutes early, then you're 10 minutes late.
What do you enjoy most about what you do?
I love completing a task and feeling accomplished.
What are you most excited about right now?
I am most looking forward to seeing more friendly faces return. Even the grumpy ones (haha)!
What's your favourite part of the workday?
Midday for sure. I get revitalized after the second coffee.
How would your 10 year old self react to what I do now?
He would say "They pay you for that? Don't blow it"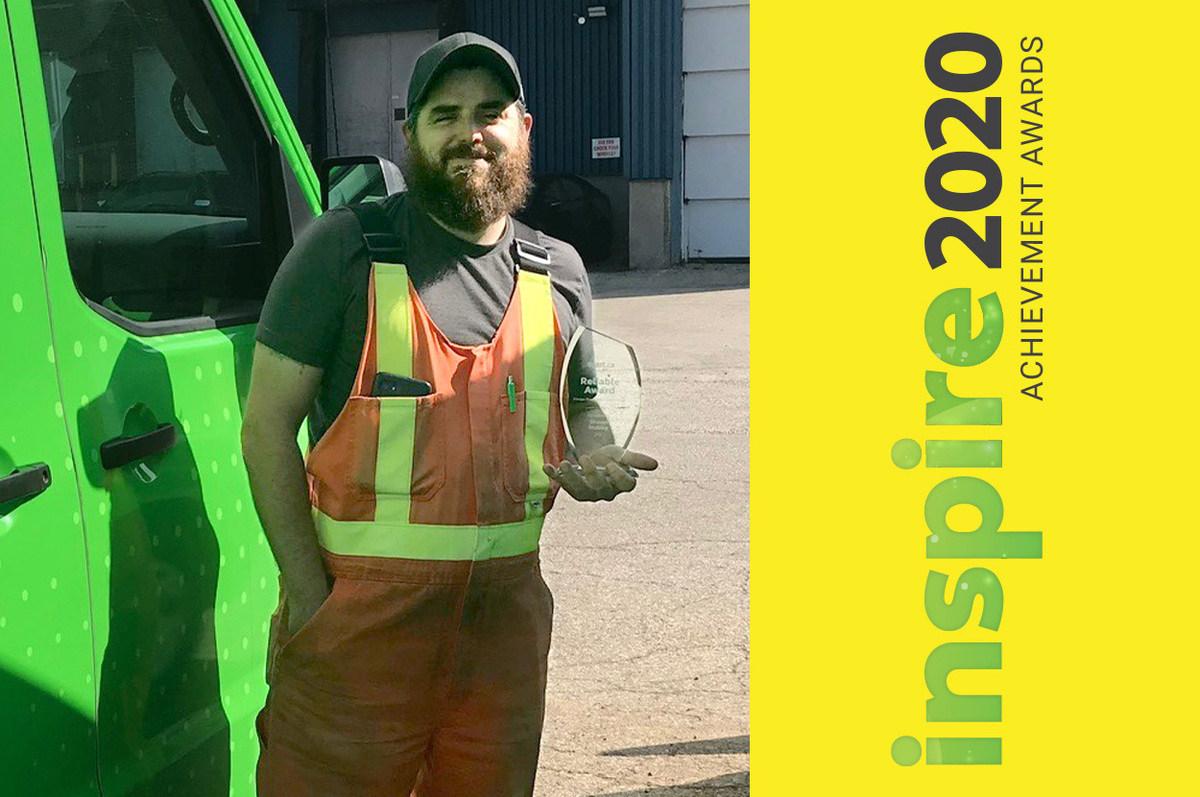 Reliable Award – Shawn Hubley, Fibre Optics Specialist
Always there and ready to help. An employee who is always willing to assist their coworkers. They have demonstrated an ability to achieve results by working collaboratively within and outside of their department. They successfully implement joint efforts to achieve common goals and they encourage participation and engagement by welcoming the ideas and perspectives of others.
What originally got you interested in your current field of work?
It sounded cool. I was working on the service desk and we were starting to expand with Fibre deployment. I signed up to go dig holes and trench for a summer because I thought it would help in my role at the time and be a great way to learn about our service from the other end. I really enjoyed the work and the challenge, so I chose to stay with the field team.
What's the best career advice you've ever heard?
It's better to ask for forgiveness than permission.
What makes you feel most accomplished in your career?
Seeing our network and how much it's grown. We went from a handful of fibre customers in the downtown area to builds that stretch from one end of the city to the other. We are growing our network every single day – it's cool to be a part of it.
Do you hit the snooze button or wake up immediately and what's the first thing you do in the morning?
Snooze all the way – at least until my wife gets annoyed, then check emails.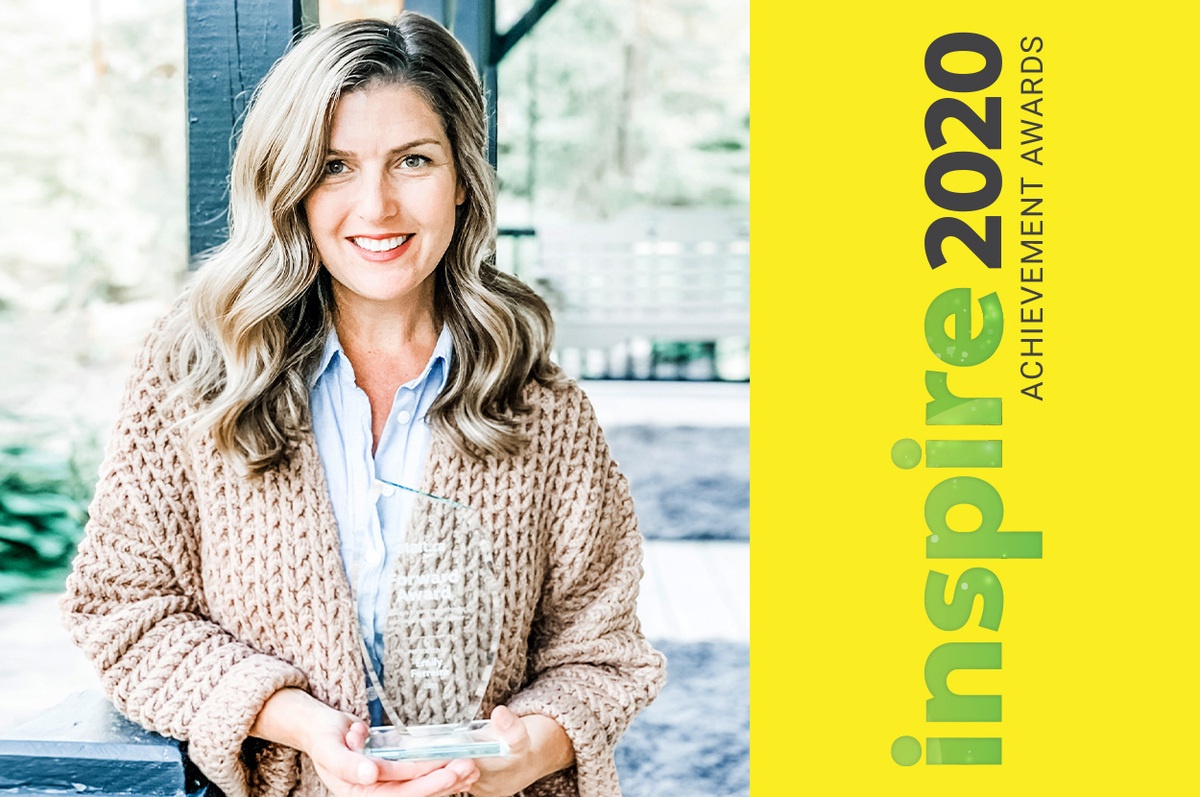 Forward Award – Emily Ferreira, VP of Customer Success
Always trying new things and making them better. An employee who brings new ideas to the table and improves upon established procedures. They embrace new challenges in order to pursue positive outcomes and they act as an agent of change for the benefit of the organization. By fostering a culture of innovation, they encourage others to apply new ways of thinking to their jobs.
What's the career highlight you're most proud of?
I am most proud of a change I embraced early in my leadership career. Two weeks after the birth of my second child, I had an opportunity to move to another department as the Manager. I had worked within one department my entire career, this change meant everything would be new. As much as I wanted to stay in my comfort zone, that move taught me that being a great leader is not simply about knowing everything, but that it is important to build a great team by ensuring everyone is in a role where their best talents can be displayed.
What originally got you interested in your current field of work?
I see my field of work as Leadership. I was Supervisor at 23, leading six direct reports. Some might say that is young to be a leader of a multi-billion dollar corporation, and at times I also doubted myself due to my age, but I had been informally leading for many years. I had always played sports and had my first job at 14 (the snack bar at the Holiday Inn Holidome), both of which had me rallying my teammates so that we could be the best; not better than everyone else, just our best. I followed this passion into my career and thankfully leadership is the path it took me.
What skills did you develop early in your career?
I worked for a great company that always described itself as a family. It was in that environment I learned the importance of rolling up your sleeves to help no matter what your title. I learned to listen to understand, not listen to speak. I learned the best teams are built by creating camaraderie and compassion, leading to everyone pulling in the same direction. I was fortunate to learn from leaders who were honest with me so that I could embrace my strengths and round out my flat spots (hopefully).
What are your hobbies, and how did you get into them?
As a mother of four, I am taxi driver, chef and laundress. In all seriousness, my kids are involved in sports and I really love watching them compete. I also like doing home improvement projects inside and outside, which includes painting, small construction projects and gardening.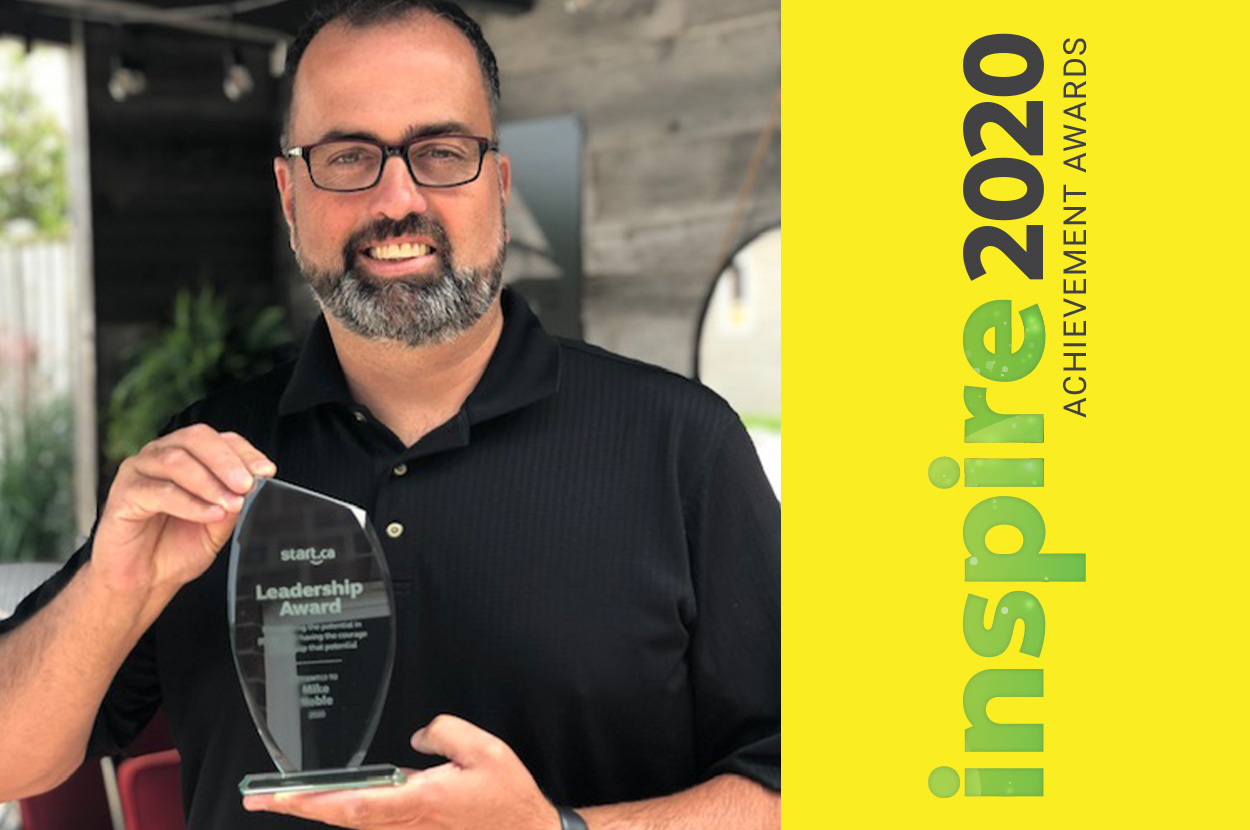 Leadership Award – Michael Noble, Sales Director
Recognizing the potential in people and having the courage to develop that potential. An employee who functions as a coach and leader. They excel in leadership responsibilities and they influence the success and prosperity of those around them. They drive organizational goals by fostering an environment of collaboration and continual personal and professional growth.
What do you enjoy most about the work you do?
I love working together to build solutions that help others.
What are you most excited about right now?
I am truly excited about the team that I get to work with. I learn and grow with them every day!
What skills do you think are most important for someone interested in a job like yours?
Take the time to truly listen to what is being said and care about the people around you! Be people centered!
What's one thing that can instantly make your day better?
Seeing a big ear to ear smile or hearing someone's success story.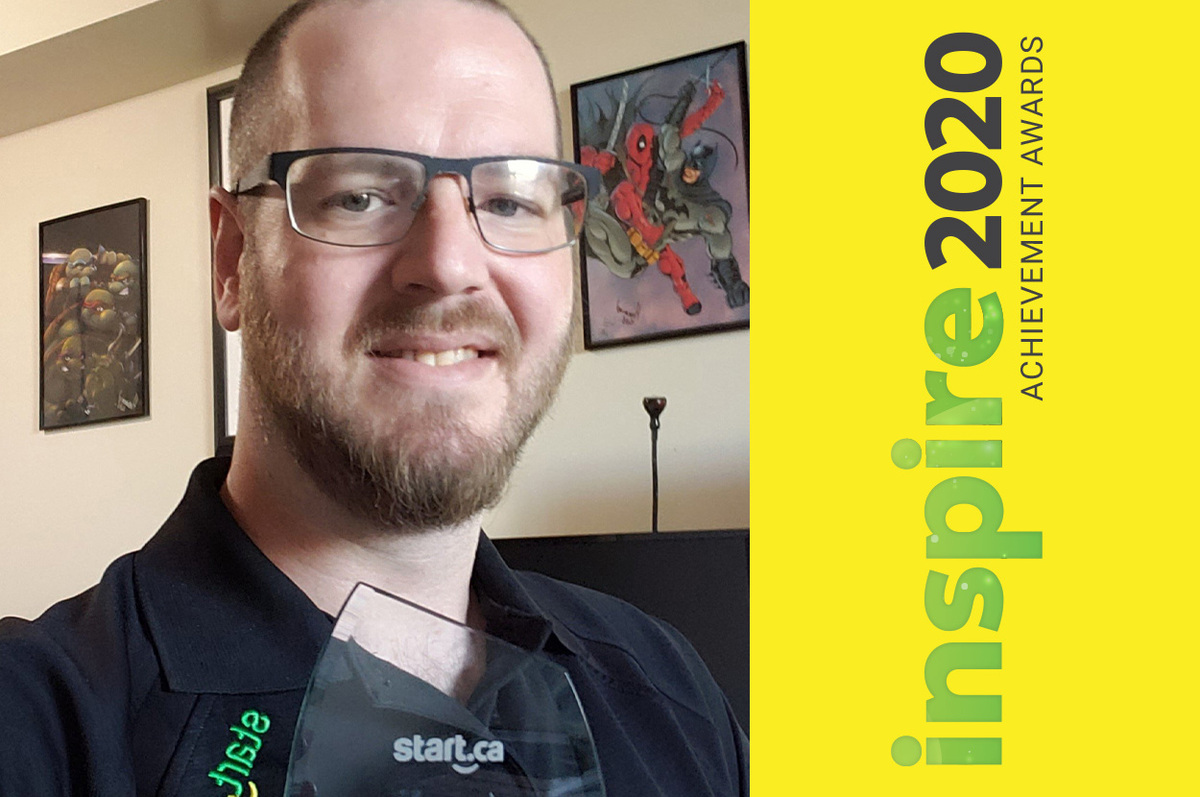 Smart Award – Stephen Brown, Customer Experience Technical Specialist
Seeing things differently and finding creative solutions. An employee who helps us overcome obstacles. They demonstrate a knack for identifying ongoing challenges and they create innovative solutions to address these challenges. Through their efforts, they have increased efficiency and functionality within their team and they operate as a consultative partner and leader to those around them.
How long have you worked in this industry?
I have worked in the tech industry for just under 15 years. I've always had a latent interest in technology when I was younger, coding text based RPG's, building custom game maps, and graphic design. My career path in this industry started off as an interest and blossomed into a passion.
What are your daily habits to keep you motivated while working from home?/What do you do to live a balanced life?
While working from home, I've found balance by keeping a structured routine during my work hours. This allows for my wife and I to plan lunches together, to speak on the phone routinely while she's working, and to keep as close to a similar lifestyle as I did in the office when it's so easy to blur the lines. We have taken steps to separate my workspace from our home area, making it easier to retain focus. We've spent a lot of our recent time working on puzzles, board/word games and projects around the home.
Is there any tech product that you couldn't live without?
The core technology I couldn't live without would be a modem and router, as you wouldn't be able to get online without them. Though something more specific to my interests would be my stencil cutter and airbrush equipment.
What makes you feel most accomplished in your career?
Seeing the Document Management System (DMS) that I have had the pleasure of working on used frequently by agents and mentors alike to provide a common consistent voice.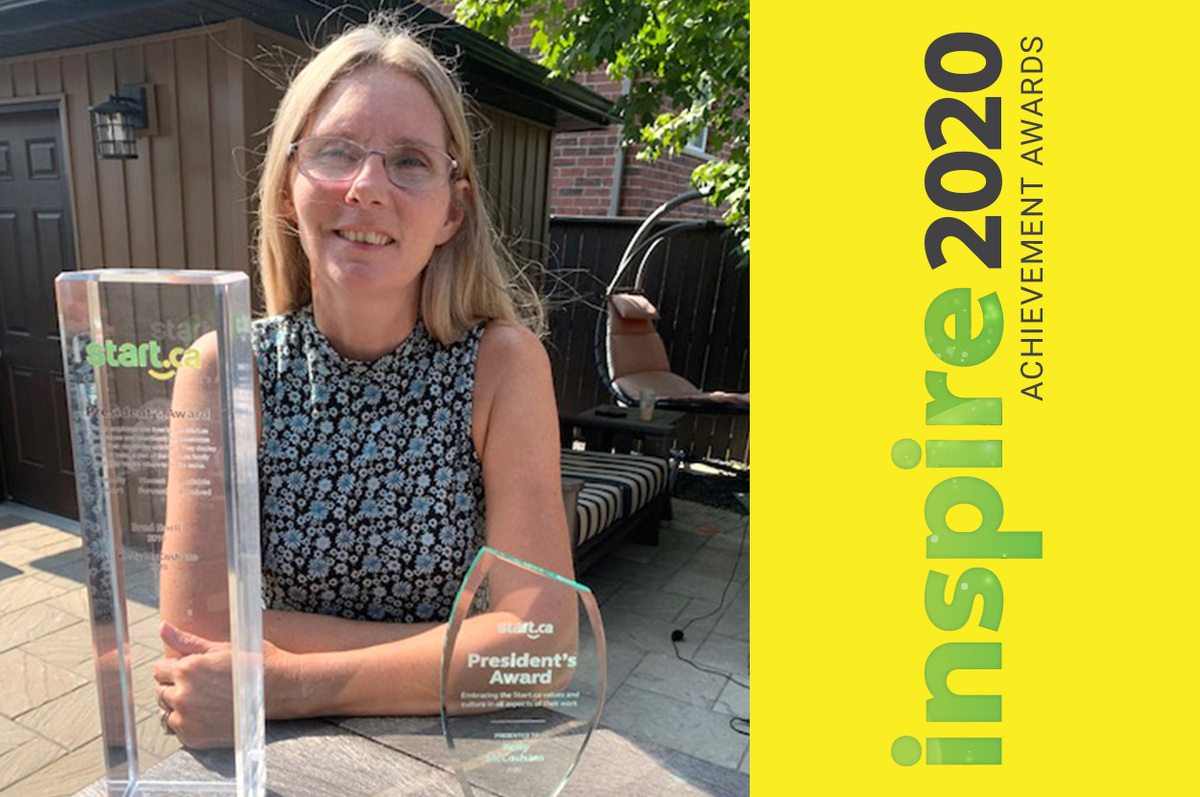 President's Award – Kelly McCosham, Customer Experience Manager
Embracing the Start.ca values and culture in all aspects of their work. An employee who lives by the Start.ca core values and relentlessly demonstrates them in their day-to-day activities. They showcase pride in being a part of the Start.ca family and they inspire others to do the same. They're helpful, informative, and supportive of those around them.
What's the best career advice you've ever heard?
There have been so many things over the years that I have hung on to. One would be that no one starts at the top, that you have to own your journey to success. Success comes from hard work, perseverance and overcoming adversity. Another would be to have a never be satisfied attitude, always look to do things better. Never dwell on failures, get back up learn from your mistakes and move forward. Lastly be true to yourself, be genuine, treat everyone like family, make everyone that you encounter feel valued.
What advice do you have for someone new to the industry?
Enjoy the experiences that this industry will provide and always have the desire to learn more, do more, and better yourself. No one is going to hand you success on a silver platter, it is the work that you do today that will get you recognized and be the first step on your road to success.
What's one work-related thing you want to accomplish in the next year?
Moving Start.ca into the AI world and bettering the customer experience, and the rep experience through data analytics and actions.
Are you more of a "work to live" or a "live to work" type of person?
I don't really fit into either of these categories. When I am working, I am all in, head down and very focused on doing my best each and every day. However, when the day is over, it's my time and my family's time. Maintaining this separation is very important to me.
Please note that we also celebrate one of our employees with the Honest Award. Our 2020 winner is not one for pomp and circumstance, so we'll quietly honour them simply by leaving you with the award description.
Holding ourselves to high moral standards and doing things the right way. An employee you can trust. They take ownership of their responsibilities and stand up for what they believe is right even when it might not benefit them. Their actions and behaviours are exemplary and they always treat others fairly and with respect.
Congratulations of all our award winners and a big THANK YOU for sharing your skills and talents with all of us at Start.ca.